High School Girls Soccer – Week2 2023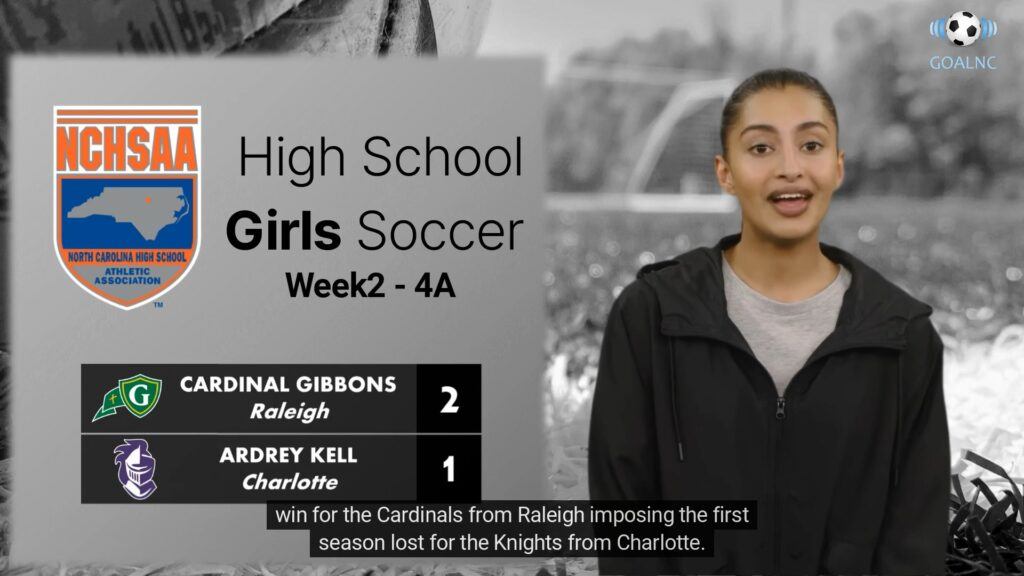 Check out how was the week 2 performance from the last year 4A finalists and who is the strong 4A East contender raising.
Watch Alisha our new GoalNC AI Avatar here: YOUTUBE
Week2 – Summary 
Week 2 is over with the top girls soccer teams from across the state of North Carolina gathered at the J Burt Gillette Athletic Complex in Wilson for the prestigious 2023 Brittany Soccer Showcase held on Friday and Saturday.
Last season's finalists Cardinal Gibbons and Ardrey Kell faced each other last Friday 3/10 with a 2-1 win for the Crusaders from Raleigh imposing the first season lost for the Knights from Charlotte.
Cardinal Gibbons played also last Wednesday 3/8 for a win 2-1 versus Apex Friendship.
Ardrey kell played two more matches during the week. Last Wednesday 3/8 the Knights beat 1-0 Cuthbertson from Waxhaw, and yesterday again on the last day of the Brittany Showcase a consistent win 3-0 versus Millbrook from Raleigh.
Another high school coming in strong is Chapel Hill. With two wins during the week. The first win 2-0 on last Tuesday 3/7 versus Carrboro and the second win 3-0 versus Myers Park from Charlotte last Friday 3/10.
Week3: Game of The Week
Game of The Week. Get ready for an exciting match this coming Thursday 3/16 between Cardinal Gibbons versus Chapel Hill at the Tigers Stadium in Chapel Hill.
Subscribe to our YouTube GoalNC channel now! –> SUBSCRIBE