College Players from North Carolina in the 2023 MLS SuperDraft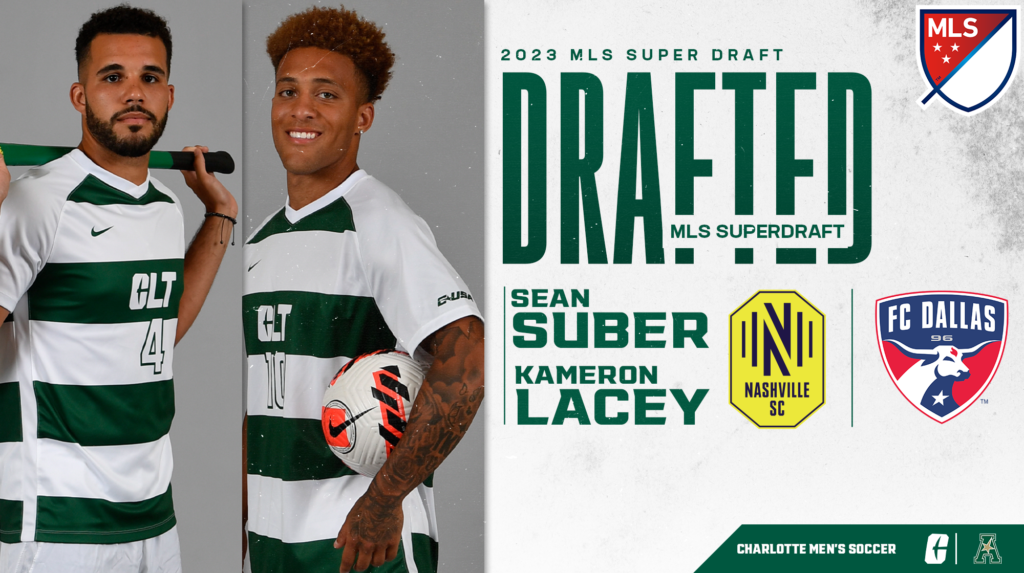 Eleven players around North Carolina colleges have been selected in the 2023 Major League Soccer SuperDraft last 12/21:
UNC Charlotte: 2 players
UNC Greensboro: 2 players
Campbell: 2 players
Duke: 1 player
High Point: 1 player
UNC Chapel Hill: 1 player
UNC Wilmington: 1 player
Elon: 1 player
Two players drafted by Generation Adidas: #2 Shakur Mohamend (Sophomore, Duke) and #5 JC Ngando (Sophomore, UNCG). Generation Adidas players are underclassmen, who don't count against a team's salary cap, thus are generally the top 15 picks. The remaining nine players were seniors.
Let's dish out a quickfire comment for each MLS team's selection of NC players:
Orlando City SC
Shakur Mohammed (No. 2) – Forward, Duke (Durham, NC) / Generation Adidas
There's no guarantee collegiate attacking players will translate to MLS, but Orlando walked away with two of the best available during the draft. Mohammed no doubt a great future ahead there.
Vancouver Whitecaps FC
J.C. Ngando (No. 5) – Midfielder, UNCG (Greensboro, NC) | Generation Adidas
An outlay of $225,000 GAM for J.C. Ngando is a trust move from Vancouver towards the talented Frenchman. The potential is there, Ngando did 14 assists and 4 goals during the 2022 season (23 games).
Philadelphia Union
Holden Trent (No. 28) – Goalkeeper, High Point University (High Point, NC)
Stop the presses: Philadelphia made a draft pick! Drafting Trent in the first round secured one of the best senior goalkeepers available, though the Union already have three on their roster.
Nashville SC
Sean Suber (No. 35) – Defender, UNC Charlotte (Charlotte, NC)
With a glut of Generation adidas signings available, Nashville were always going to have a shot at boosting their cache of younger talent. They checked that box by grabbing a very know NC youth player Skinner, one of the few true left backs on the board. It will be an uphill battle for Nashville's other five picks to make the team, though perhaps Suber could surprise.
Atlanta United
Tyler Young (No. 36) – Midfielder, Campbell University (Buies Creek, NC)
Atlanta leveraged their first and third-round picks for allocation money, which is never a bad move and fits their roster-building strategy. Young is a solid, athletic forward with some upside that should be in contention to feature for Atlanta United 2.
Portland Timbers
Ryan Bilichuk (No. 44) – Goalkeeper, Elon University (Elon, NC)
In his first season with Elon, Bilichuk started all 19 games in goal and led the team to 11 shutouts on the season, setting a single-season school record. He had 40 total saves and was named to the All-Colonial Athletic Association second team for the 2022 season
Inter Miami CF
Bachir Ndiaye (No. 47) – Midfielder, UNCW (Wilmington, NC)
Ndiaye is a 23-year-old midfielder who featured for UNC Wilmington for three years. Most notably in 2022, the Dakar, Senegal native was named to the All-Colonial Athletic Association First Team after starting 15 of 17 games as a senior, while also being named to the United Soccer Coaches All-Atlantic First Team.
New York Red Bulls
Ethan Conley (No. 50) – Defender, UNCG (Greensboro, NC)
Conley was a four-year starter at UNC Greensboro, where he appeared in 73 matches, starting 65. During his junior year, he was a member of the defense that posted 10 shutouts. He has helped Greensboro win two SoCon Tournament championships as the team achieved its highest ranking in program history, sixth in the United Soccer Coaches final poll.
CF Montréal
Milo Garvanian (No. 54) – Defender, UNC (Chapel Hill, NC)
Montréal's day started with getting a new head coach in Hernan Losada and adding Aaron Herrera (while shipping their first-round pick as part of the deal that sent the right back to Quebec), then ended with several new players late in the draft. Garvanian has the quality and versatility to sneak onto the roster.
Real Salt Lake
Moses Mensah (No. 74) – Defender, Campbell University (Buies Creek, NC)
RSL did very well on the draft, as Mensah offers talent and upside, though slipped due to his international status. Mensah is one of the the top outside back in this draft.
FC Dallas
Kameron Lacey (No. 82) – Forward, UNC Charlotte (Charlotte, NC)
Inactive until late in the first round, the third pick from FC Dallas was Kameron Lacey. The main purpose to add danger in the final third.