U.S. Soccer Development Academies in North Carolina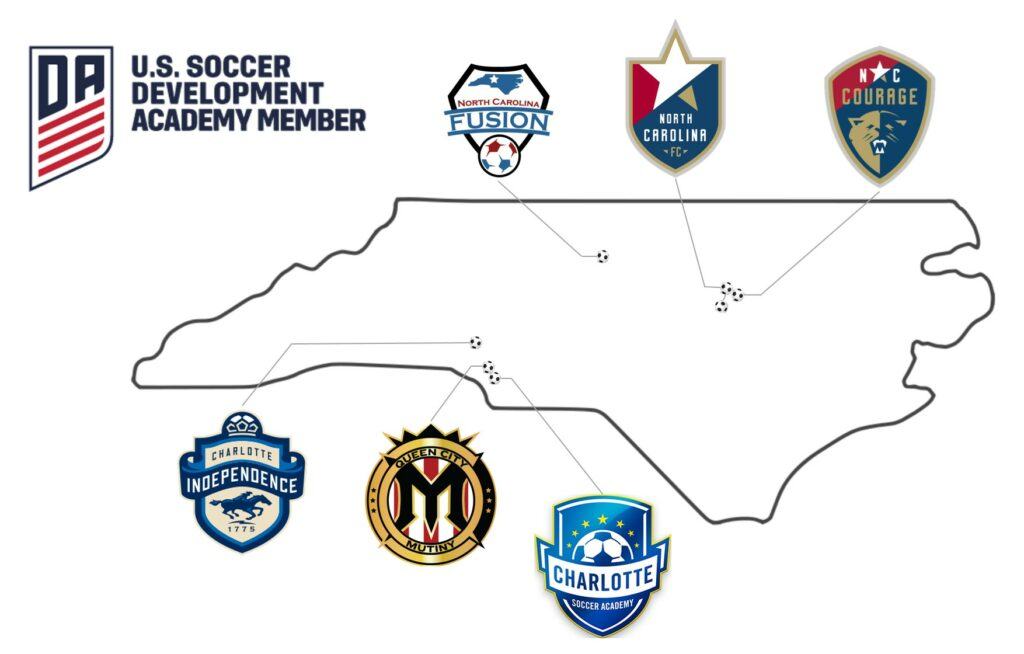 North Carolina has 7 members offering the U.S. Soccer Development Academy (DA) program for elite soccer players, the complete list of clubs offering the program is below.
DA is the top tier of youth soccer in the United States. Formed in 2007, the league features youth academies and youth clubs from various organizations, including Major League Soccer, National Women Soccer League and the United Soccer Leagues.

The DA's mission is to provide education, resources, and support to impact everyday club environments in order to develop world-class players. Following a comprehensive review of elite player development in the United States and around the world, U.S. Soccer created the Development Academy. The Academy Program's philosophy is based on increased training, less total games, and more meaningful games using international rules of competition.
The Academy has 197 total clubs, comprised of teams across six age groups in the boys program: U-12 (pre-DA), U-13, U-14, U-15, U-16/17, and U-18/19 and four age groups in the girls program: U-14, U-15, U-16/17, and U-18/19.
The Academy Program focuses on positively impacting everyday club environments to assist in maximizing youth player development across the country. The Academy values individual development of elite players over winning trophies and titles. The Academy sets the standard for elite environments for youth soccer clubs nationwide and is a part of U.S. Soccer's global leadership position in youth soccer that will impact thousands of players.
NC Courage (NWSL)
Programs
Girls: U-14, U-15, U-16/17 and U-18/19
Location
Club DA Hub
Charlotte Soccer Academy
Programs
Boys: U-13*, U-14*, U-15, U-16/17 and U-18/19
Girls: U-14, U-15, U-16/17 and U-18/19
Location
Matthews, N.C. (Charlotte Metro Area)
Club DA Hub
Queen City Mutiny
Programs
Location
Club DA Hub
Charlotte Independence (USL)
Programs
Boys: U-13, U-14, U-15, U-16/17 and U-18/19
* Offering programs also at South of Charlotte metro area
Location
Cornelius, N.C. (Charlotte Metro Area)
Club DA Hub
North Carolina Fusion
Programs
Boys: U-13, U-14, U-15, U-16/17 and U-18/19
Location
Club DA Hub
North Carolina FC Youth (USL)
Programs
Boys: U-13, U-14, U-15, U-16/17 and U-18/19
Location
Club DA Hub
North Carolina FC Youth South (USL)
Programs
Location
Club DA Hub