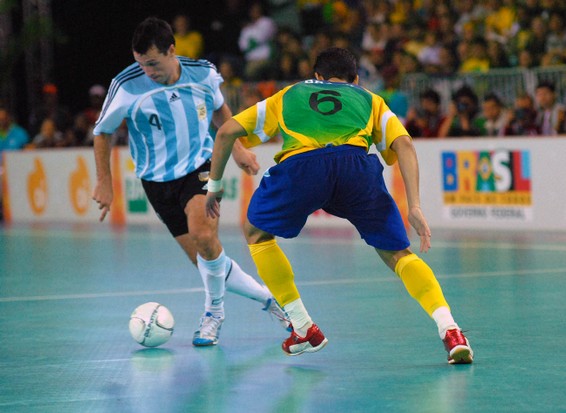 The Futsal is the indoor version of soccer played with 5 players (1 goalkeeper and 4 field players). The game is played in a 131×65 ft. size court with a special ball that is heavier and has less bounce than a regular soccer ball. These factors mean that players touch the ball far more than during outdoor or indoor arena soccer games. Futsal develops better foot skills and ball control. The court that the game is played on has no walls to assist players, instead they must use their skills and are punished for improper technique and errant passes.
Futsal originated in South America and was for a long time considered the South American secret behind why so many gifted players come out of this continent.
Futsal is the ultimate game for helping players to develop skillful and creative tactics, foot skills, and ball control. Futsal is a fast-paced and exciting game that creates players that think quickly on the field and perform well under the pressure of a fast moving game. With on the field teams no larger than 5V5, players are constantly involved in the action and touching the ball.
All of the world's greatest players grew up playing futsal and recognize the game of futsal as a major reason why they have such amazing footskills and the ability to think quickly in the pressure of a game. Pele, Maradona, Messi, Kaka, Xavi, Ronaldo, Robinho, Ronaldinho, Fabregas, are just some of the players that grew up playing futsal.
There is a portable futsal goal with official size and easy quick setup, no excuses to start improve now a player footskills.
All of the top clubs in the world such as Barcelona, Real Madrid, Chelsea and Manchester United have their youth players playing futsal! In fact in Brazil most junior players don't play outdoor soccer until around age 13, instead the play futsal!
Brazil is the strongest team with five Futsal FIFA World Cup titles, their last title was in 2012 against the strong team from Spain. The current world champion is Argentina defeating Russia in 2016.
SOURCES: