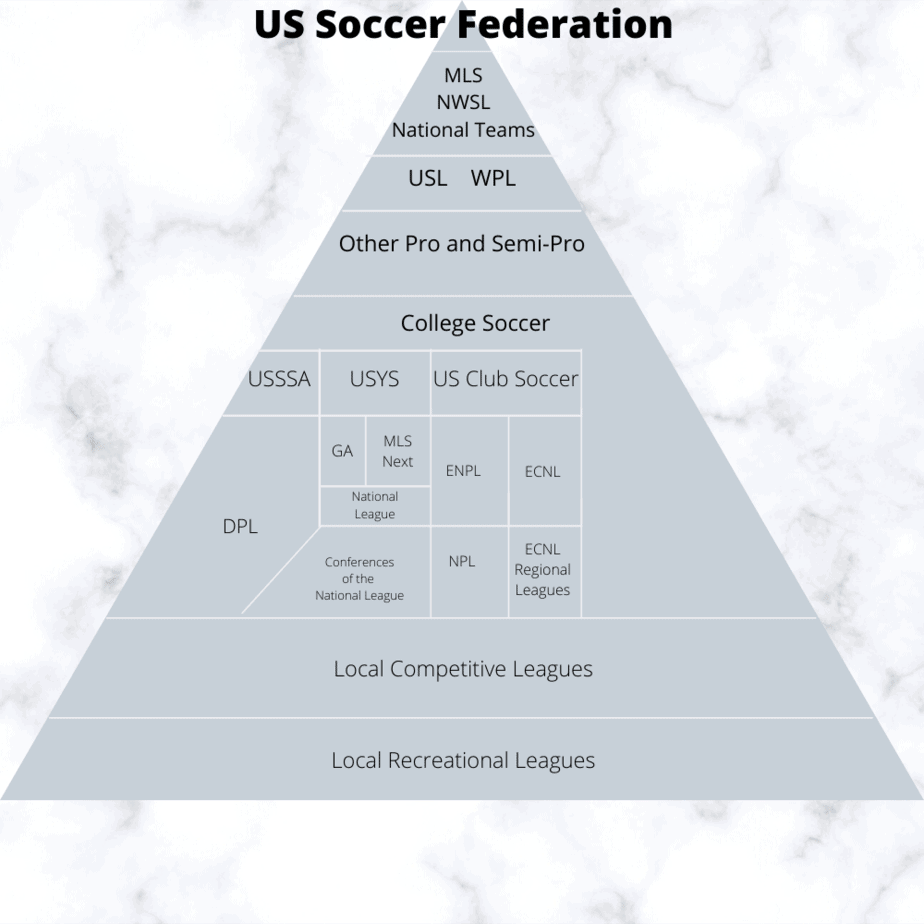 Many people new to youth soccer and a fair number who have been involved for many years can become hopelessly confounded by the distinction between all of the seemingly countless associations, leagues and levels. It certainly does not help that so many have similar sounding names and sometimes clubs competing in different associations. Add in the acronyms and it is a recipe for massive confusion.
Let's see if we can untangle that web all the way from the US Soccer Federations to the U13-18 Competitive Teams in North Carolina.
We'll start at the very top with the United States Soccer Federation (US Soccer), the governing body for soccer in the United States. They have the logo you see on the kits of the national players. Their members include the MLS, United States Adult Soccer Association, US Youth Soccer, US Club Soccer, Armed Forces Sports Council, the National Soccer Coaches Association of America and more.
MLS NEXT
North Carolina clubs: 3
MLS NEXT provides a platform for the highest level of boys soccer starting at the U13 age group and is organized by MLS. MLS NEXT is partnering with United States Youth Soccer (USYS) and is essentially a replacement for the now defunct Development Academy (DA).
DA was the most prestigious youth league the United States of America has seen where the best youth teams in the MLS and some other good Academy clubs used to compete. Although the best youth teams and academies were in this league there was a lot of variety in terms of level, and so the US soccer committee decided to discontinue the Development Academy league and create a whole new league with better competition and better level overall.
From there arose the newest and most competitive league so far, the MLS NEXT youth soccer league, taking away the teams that couldn't compete in the development Academy league. The standards for being accepted as a club into the MLS NEXT are very high.
The MLS NEXT league was created in 2020 by the MLS, in which the best youth teams are placed in. To ensure the best and most competitive level of soccer, all of the youth academy MLS teams were put in this league, mixed with the best non-MLS academies. It's basically the same as the Development Academy but with a more precise pick of teams for the best level possible.
MLS NEXT has 134 clubs spread in 6 age groups. The 2020-2021 MLS NEXT playoffs will take place from June 25-July 3 in the Dallas Metroplex to crown MLS NEXT Cup champions in four age groups: U15, U16, U17, U19. The top 128 teams in the country will participate in the championship tournament to conclude the first-ever 10-month season.
The following clubs from North Carolina is part of the MLS NEXT: Charlotte FC (MLS), Queen City FC (non-MLS), Wake FC (non-MLS) and Triangle United (non-MLS, joining the season 2022-2023).
For more information on MLS NEXT, visit www.mlssoccer.com/mlsnext/

ECNL – Elite Clubs National League
North Carolina clubs: 5
ECNL is another high-level league on a national scale where the best teams that weren't qualified to play in the MLS NEXT league compete. ECNL is sanctioned by US Club Soccer.  Originally, ECNL was formed specifically for the elite female players, but in 2017 ECNL created a boys side as well.
This league is made up of 79 clubs divided in 10 conferences around the country and within these clubs there are also teams in different age groups that play one in MLS NEXT and the other in ECNL. In the beginning, when founded in 2009, the ECNL league was an all girls soccer league. After years and years of hard work being one of the best leaks in the United States, the boys ECNL soccer league was founded in 2017 we're also had a lot of success within the years.
Recently, the ECNL has expanded to include ECNL Regional Leagues (ECRL).  Currently, there are 7 different ECNL Regional Leagues which are intended for a lower level of competition – much like Conferences in the National league.  Club standards are generally a bit lower for qualification into ECRL. Teams from the ECRL can qualify for playoff events which would allow them to advance and play the higher level ECNL "national" level teams.  As of now, ECNL Regional Leagues are not being used as qualification leagues into the ENCL "national" league, but that could happen in the future.
For more information:
ECNL Boys, visit www.ecnlboys.com/
ECNL Girls, visit www.ecnlgirls.com/

NPL – National Premier League
North Carolina clubs: 4
NPL is a national competition platform created to elevate and change the competitive youth soccer landscape by extending developmental principles espoused by U.S. Soccer into more age groups and clubs, linking competition with player development and identification platforms, providing meaningful weekly competition culminating in the NPL Finals.
The NPL consists of 22 member leagues from all across the United States. The North Carolina clubs compete in the South Atlantic Premier League.
NPLs are leagues unified under one national competition platform and based on a common technical framework. More specifically, the NPL provides a platform:
focused on long-term player development
for the country's top soccer clubs, allowing consistent, meaningful high-level games appropriately scheduled with higher training-to-game ratios and eliminate calendar congestion
integrated with the id² Program, which includes Player Development Programs (PDPs) in select local markets, and that works closely with U.S. Soccer staff regarding player identification, and player and coach development
designed and structured by the clubs, based on the needs of the clubs
that provides an avenue for qualification for the Girls NPL Finals and US Club Soccer Boys National Championship
For more information on NPL, visit www.usclubsoccer.org/npl

Carolina Champions League
North Carolina clubs: 19
Founded in 2018, the Carolina Champions League has been dedicated to positively impacting the development of clubs in the region, allowing clubs the ability to create their own identity. The league has been committed to supporting the growth of the game in the Carolina's and in particular, the Charlotte metro area.
The Carolina Champions League was created to help grow the game through collaboration and key values that focus on player and club development. Centralized locations, coach education standards, and multiple levels of play within the league are a few initiatives that make up the Carolina Champions League. Initially with 8 club members during the league's inaugural season in 2018, the Carolina Champions League has quickly become one of the fastest growing leagues in the region with 24 clubs and over 200 teams throughout North and South Carolina.
There is an interesting concept in the Carolina Champions League, each Regular Season game is played at a centralized location. They try to make it as convenient as possible for families with multiple players, coaches with multiple teams, and referees with multiple games! Full day of competitive games, a fun atmosphere, and every team being able to watch, learn from and cheer for other age groups within your club. Centralized locations also allow certified athletic trainers to be on site to ensure the health and safety of every Carolina Champions League member. These factors are what drives the Carolina Champions League concept.
For more information on Carolina Champions League, visit www.championsleaguenc.com/2-0-home/

USYS – United States Youth Soccer
North Carolina clubs: 98
https://usyouthsoccer.tipevo.com/listing-category/northcarolina-youth-soccer-association/
From its humble beginnings in 1974 with just more than 100,000 registered players to its current registration of nearly 3 million players, US Youth Soccer has always been recognized as a leader in national youth sports organizations. US Youth Soccer is the largest member of the United States Soccer Federation, the governing body for soccer in the United States, and is comprised of over 600,000 volunteers and administrators, and over 300,000 dedicated coaches, most of whom also are volunteers. US Youth Soccer provides a healthy activity through its recreational and small-sided game programs. These programs emphasize fun and de-emphasize winning at all costs. Every child is guaranteed playing time, and the game is taught in a fun and enjoyable atmosphere.
USYS is divided into four regions: East, Midwest, South and West. There are 55 member State Associations make up US Youth Soccer with one in each state, and two in California, New York, Ohio, Pennsylvania and Texas. Boys and girls then register to play with one of the 10,000+ clubs or leagues within the jurisdiction of the various Member State Associations.
The USYS league on the national scale splitting the teams into 13 conferences with more or less eight teams in each conference. Where they play a league within their own conference and if qualified play against the winners of the other conferences until there's a champion of the whole league. The teams played in this league are not teams of the MLS, it's a mediocre youth soccer level.
US Youth Soccer State Champions and selected wildcard teams through US Youth Soccer Regional Leagues in most age groups are eligible to compete in one of four US Youth Soccer Regional Championships. The champions in the 13U through 19U age brackets from each regional event will converge in July for the US Youth Soccer National Championships.
For more information on USYS, visit www.usyouthsoccer.org

EDP – Elite Development Program
North Carolina teams: 0
Founded in 1999, Elite Development Program Soccer (EDP) is one of the largest organizers of youth soccer leagues and tournaments in the U.S. EDP operates youth leagues for boys and girls ages 9-19, conducts a Futures program for players ages 7-11, and operates U20/23 men's and women's leagues. EDP league is concentrated in the Eastern states, there are four conferences: North-Atlantic (NY-CT), Mid-Atlantic (NJ-PA), South-Atlantic (MD-DE-VA) and New England (MA-RI-NH-ME-VT). Within each conference there can also be different divisions as in North-Atlantic Premier 1 and North-Atlantic Premier 2.
In this league the level isn't that great, it's an overall mediocre level but very professional in concept to their level. There's a lot of tournaments and interesting subjects such as the EDP first team where players are selected to trial and train with the best players in the EDP league.
One of the major priorities of EDP's leagues and tournaments is to enable soccer players to reach their full potential, with an emphasis on attending college. More than 3,500 teams participate in EDP's leagues and more than 170,000 players compete in EDP tournaments annually.
For more information on EDP, visit www.edpsoccer.com.